Hay un crucero para ti
Febrero es el mes de la venta anticipada y los descuentos.
Una travesía con Barbie y Ken. Acampadas en la Antártida.
Minicruceros desde Singapur. Las navieras siguen reinventando el ocio en alta mar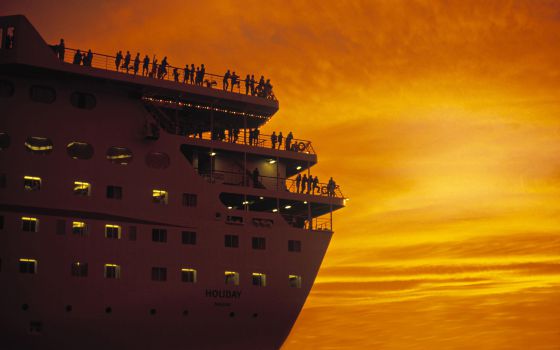 Febrero es el mes caliente de los cruceros. Navieras y turoperadores apuran estos días sus campañas de venta anticipada —con promociones como El mes del crucero, de Logitravel, o La semana del crucero,de Viajes El Corte Inglés, ambas válidas hasta el día 28— invitando a los viajeros a reservar ahora con la promesa de precios mucho más bajos que los que encontrarán dentro de unos meses. La perspectiva de recorrer varios países sin tener que cambiar de alojamiento, en régimen todo incluido y a precios asequibles, gana adeptos en España, sobre todo para las travesías por el Mediterráneo con salidas desde Barcelona, Palma, Valencia y Málaga.
Las navieras siguen sumando nuevos atractivos a sus rutas en un esfuerzo por atraer a sus cubiertas a todo tipo de personas. Mientras que unos barcos se acomodan al pasajero que se conforma con ver el mar desde la tumbona, otros dedican su atención a un público menos sedentario, con propuestas que van desde caminatas por los glaciares de la Patagonia a clases de baile y cursos de cocina. La oferta de cruceros se ha expandido y diversificado tanto que prácticamente cualquier viajero dispone de un crucero a su medida, sean cuales sean sus gustos o su edad. Se siguen construyendo nuevos buques, aunque a un ritmo menor que hace unos años, y navieras como la finlandesa Viking apuestan por naves menos contaminantes al tiempo que introducen la experiencia del diseño nórdico en sus interiores.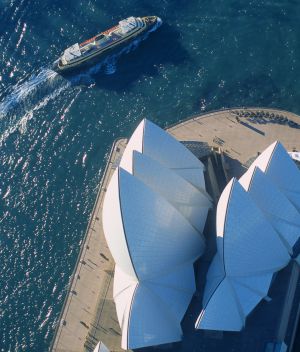 Un barco navega cerca de la Ópera de Sidney, en Australia. /
GRANT FAINT
Norwegian Cruise Line lanza su nueva campaña de primavera para las reservas realizadas hasta el 28 de febrero. Permite ahorrarse hasta 500 euros por camarote en los cruceros con salidas en abril, mayo y junio de 2013, y hasta 250 euros por camarote en los cruceros estivales, de julio a octubre. La oferta se extiende al viaje que traerá de vuelta a España al
Norwegian
Epic,
un crucero transatlántico de 11 noches, con salida el 20 de abril desde Miami (desde 399 euros por persona). Logitravel amplía hasta el 28 de febrero
El
mes del
crucero,
con descuentos de hasta el 60% en algunas rutas y fechas de salida si se contrata con tiempo el viaje (anticipando solo 50 euros por pasajero y sin gastos de cancelación). Pullmantur, por su parte, ofrece a los pasajeros en su crucero
Brisas del Mediterráneo
un paquete de cinco excursiones opcionales —Túnez, Roma, Florencia, Génova y Montecarlo— por un precio único de 99 euros por persona si se contratan antes de la fecha de salida.
Disfraces a bordo
En la última década, el número de pasajeros menores de 18 años se ha duplicado, y cada vez hay más actividades a bordo destinadas a niños y adolescentes. A partir de marzo, Royal Caribbean ofrecerá en todos los barcos de su flota la ExperienciaBarbie,un programa de ocio infantil niños de entre cuatro y once años, que incluye fiestas de té, clases de baile, taller de diseño de moda, desfiles en pasarela, concursos de disfraces y camarotes decorados al gusto de la célebre muñeca, es decir, con mucho color rosa.
Haloterapia en la mar salada
NCL inaugura a finales de abril su nuevo barco-spa, el Norwegian Breakaway, que cuenta con suites termales, bar de hielo, estudios para pasajeros que viajan solos y una sala de haloterapia en alta mar (la haloterapia consiste en respirar un ambiente saturado por partículas secas de sal en una cámara que emula la atmósfera de las minas de halita, al que se le atribuyen efectos benéficos para la salud). El barco también dispone de simuladores para la práctica de deportes de contacto como el boxeo o el kárate y circuito de tirolinas. De mayo a octubre ofrecerá cruceros de siete noches desde Nueva York (por Bermudas y Bahamas), con tarifas que parten de 899 euros por persona (más vuelos).
Delfines y pagodas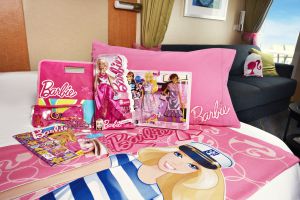 Habitación ambientada con la muñeca Barbie en un barco de Royal Caribbean
Orient Express estrena en julio su segundo crucero fluvial de lujo en Birmania: el Orcaella. Bautizado así por los delfines del río Irawadi(Orcaella brevirostris), navegará por las gargantas de los ríos Irawadi y Chindwin, en viajes de siete y once noches que parten de Rangún y llegan hasta zonas remotas del norte del país, como Homalin. Desde 3.900 euros.
Que te case el capitán
Para aquellas parejas que quieran sellar su amor en el mar, Royal Caribbean ofrece la posibilidad de casarse legalmente a bordo de sus barcos mientras navegan por aguas internacionales. Los programas van desde una ceremonia íntima hasta una celebración con banquete para muchas personas, e incluyen flores para la novia, fotógrafo, certificado matrimonial y otros detalles. Desde 2.992 euros.
Hola, 'Preziosa'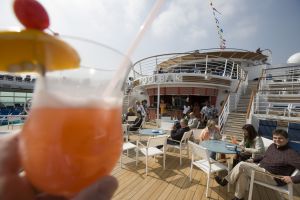 El bar de la piscina en el barco 'Freedom of the Seas', de la naviera
Royal Caribbean. /
HOLGER LEUE
El 23 de marzo se hará a la mar en el puerto italiano de Génova el MSCPreziosa, el cuarto barco de la familiaMSC Fantasía, que a partir de marzo de 2013 realizará una ruta por el Mediterráneo con salida de Barcelona. El Preziosa cuenta con un parque acuático infantil y un tobogán de agua de 120 metros de largo, con un tramo transparente, por el que los pasajeros podrán deslizarse desde la cubierta 18 y sobrevolar el barco e incluso las olas sin caerse al mar. En el extremo opuesto, MSC abre en el Preziosa y otros barcos de su flota un espacio exclusivo para adultos, el Top 18 exclusive solarium, para que los papás y otras personas puedan descansar.
Yoga a bordo
Star Clippers sugiere dejar el estrés en tierra y relajarse realizando ejercicios de yoga (dos sesiones diarias, de 60 y 40 minutos, por la mañana y al atardecer) en la cubierta del Royal Clipper, un elegante velero de cinco mástiles que izará sus velas el 28 de abril en el puerto de Lisboa rumbo a Barcelona. El viaje, de ocho días, tiene escalas en Portimao, Tánger, Cartagena, Ibiza y Palma. A bordo viajará Raphaella Rose, una instructora de yoga con muchos años de experiencia. Desde 1.850 euros por persona, con pensión completa, todas las clases de yoga y tasas portuarias.
Tierra a la vista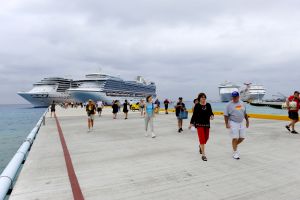 Pasajeros de dos cruceros desembarcan en el puerto mexicano
de Puerta Maya, en la isla caribeña de Cozumel. /
DENNIS MACDONALD
Mientras que en la mayoría de los grandes buques todo está pensado para mantener a los pasajeros entretenidos a bordo, en otros barcos lo importante son las escalas. El programa de excursiones
Destination Immersion
de Azamara Club, una marca del grupo Royal Caribbean que ofrece travesías personalizadas en pequeños barcos de lujo, contempla estancias de una o varias noches en los lugares donde hace escala, utilizando el barco como un hotel flotante, lo que permite a los pasajeros cenar fuera del barco o asistir a un espectáculo o a un concierto, por ejemplo. Salvo ofertas puntuales, sus precios están por encima de los 2.000 euros
Crystal Cruises, una de las navieras más exclusivas, brinda a sus pasajeros la oportunidad de sentirse útiles realizando labores de voluntariado durante las escalas. Ayudando por unas horas en un orfanato de ciudad del Cabo, por ejemplo; limpiando de basura una playa caribeña, o dando clases a los niños en una escuela local.
Para 'springbreakers'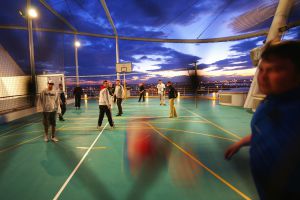 Un partido de baloncesto en la cubierta de un crucero. /
JUERGEN STUMPE
La música y la fiesta marcarán el rumbo del
Spring Break Boat,
un crucero de ocho días para jóvenes con ganas de divertirse (esto es lo que significa el nombre del programa) que saldrá el 18 de marzo desde el puerto de Málaga. El viaje, a bordo del barco
Grand Holiday
de Iberocruceros, tiene escalas en los puertos italianos de Cagliari (Cerdeña), Civitavecchia (Roma), Nápoles y Trapani (Sicilia). Desde 592 euros por persona, con régimen todo incluido.
Fiordos y destilerías
Iberocruceros, filial de Royal Caribbean, añade una escala escocesa, el puerto de Invergordon, a sus cruceros de siete días en el Grand Mistral, uno de los tres buques de su flota, por los fiordos noruegos. Desde allí se realizan excursiones opcionales al lago Ness o a las destilerías de whisky (desde 49 euros cada una). Reservando ahora, la salida del 22 de junio cuesta desde 1.093 euros, con vuelos, régimen todo incluido y tasas.
Asia marina
Costa Cruceros mira este año a los mares de Oriente, y lleva hasta Singapur dos de sus barcos, el Costa Victoria y el Costa Atlántica, con los que ofrece travesías a lugares tan sugerentes como la isla de Jeju (Corea del Sur), Danang (Vietnam), Cochín (Kerala, India) o Fukuoka (Japón), o minicruceros de cuatro días por las islas de Langkawi y Penang (Malasia), desde 479 euros por persona, tasas incluidas (a este precio habría que sumarle los vuelos desde España). Más cerca, la naviera italiana aumenta un 16% sus escalas en el puerto de Valencia, con cinco barcos que llevarán a la ciudad a más de 127.000 personas.
Iguanas y meteoritos
El exotismo es la nota dominante en la programación de Silversea, que presenta 10 nuevos destinos en su Atlas de cruceros 2013 con escalas que van desde los cráteres de meteorito en los bosques de la isla de Saaremaa (Estonia) a los arrecifes de coral de Sabang, al norte de Sumatra (Indonesia). Rutas como la del Silver Explorer, un antiguo rompehielos completamente remodelado que realiza travesías por los mares polares, o las que a partir de septiembre ofrecerá el Silver Galápagos, su nuevo barco de exploración en el archipiélago ecuatoriano que inspiró a Darwin su teoría de la evolución de las especies. Las travesías, de siete noches, cuestan desde 4.350 euros por persona, y se visitan las islas de Santiago, Bartolomé, Isabela, Fernandina, Floreana, San Cristóbal y Santa Cruz.
Sin pisar tierra
Navegar por navegar, como el protagonista deNovecento, un monólogo teatral del escritor italiano Alessandro Baricco que Giuseppe Tornatore adaptó al cine en La leyenda del pianista en el océano, es la esencia de los cruceros transatlánticos, travesías sin escalas (o con un largo tramo sin escalas) donde toda la diversión ocurre dentro del barco. En abril y mayo las navieras trasladan muchos de sus buques a Europa desde los puertos de invierno en el Caribe. Es lo que en la jerga de las agencias se conoce como cruceros de posicionamiento. Como ocurre con las aves migratorias, el viaje se repetirá en sentido inverso al llegar en otoño. En ambos casos admiten pasajeros, ofreciendo así la posibilidad de embarcarse en un transatlántico de lujo a un precio especialmente bajo. El 30 de marzo, por ejemplo, zarpa el QueenElizabeth, de Cunard, desde Nueva York rumbo a Southampton, un viaje de nueve días que cuesta 540 euros (más el vuelo).
Aventuras en la Antártida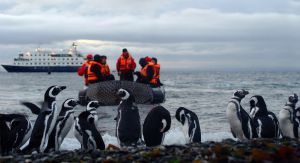 Una de las paradas en un crucero por la Antártida de la naviera Hurtigruten.
La naviera noruega Hurtigruten ofrece este año cinco itinerarios por la Antártida a bordo del barco polar
MSFram,
y por primera vez los pasajeros podrán acampar una noche en el continente helado. Los viajeros que quieran emular a Roald Amundsen recibirán trajes especiales, tiendas de campaña y sacos de dormir. Los aventureros van acompañados por un equipo de expertos. Los viajes a la Antártida, de 10 días, cuestan desde 3.995 euros, más los vuelos internacionales hasta Buenos Aires; la acampada nocturna se reserva a bordo y cuesta 398 euros.
De agua dulce
Los ríos Rin, Mosela, Elba, Danubio y Volga concentran la mayor parte de la oferta de cruceros fluviales en Europa. En España, una de las mayoristas que le dedican mayor atención a este segmento de los cruceros es Politours (en agencias), que ofrece un crucero de 11 días (10 noches en el barco) entre Moscú y San Petersburgo por los ríos Volga, Svir y Neva, y el lago Onega, desde 950 euros por persona (más tasas y visado, unos 131 euros), con vuelos, traslados, visitas guiadas y pensión completa.
Cruceros Mediterráneos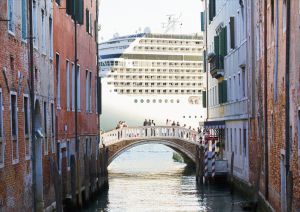 Un barco crucero visto desde un canal de Venecia (Italia). /
GETTY
Venecia desde el ojo de buey
Aunque el Caribe concentra casi la mitad del turismo mundial de cruceros, el precio y la cercanía de los puertos de embarque decantan las preferencias de los viajeros españoles hacia el Mediterráneo, que este año extiende su temporada de cruceros desde finales de marzo —Semana Santa— hasta octubre. A efectos de navegación, las compañías navieras reparten sus rutas en tres grandes zonas: la que se extiende entre el mar Adriático y Gibraltar, con Barcelona, Venecia, Nápoles, Civitavecchia (Roma), Génova, Mónaco, Niza y Cannes como principales escalas; el Mediterráneo oriental, con travesías articuladas en torno a los puertos de El Pireo (Atenas) y Estambul, e islas como Rodas, Creta, Santorini y Mikonos; por último, las rutas por el sur del Mediterráneo, que tocan las costas de Marruecos, Túnez, Alejandría y Egipto, y en algunos casos se extienden también por el Atlántico hasta Canarias y Madeira.
Todo incluido
La naviera española
Pullmantur
, integrada en el grupo Royal Caribbean, inaugura el 19 marzo su temporada de cruceros en Europa con la travesía de seis noches que emprenderá el
Zenith
, uno de sus tres barcos, entre Málaga y Atenas, con escalas en Túnez, Malta, Messina (Sicilia, Italia) y Katakolon (Grecia). Desde 450 euros, más tasas (179 euros), con régimen todo incluido, billete de AVE de Madrid a Málaga y vuelo de vuelta desde Atenas a Madrid. Y para quienes disponen de pocos días; un minicrucero de cuatro días a bordo del
Sovereign
, con salida el 20 de marzo desde Barcelona y escalas en Córcega y Montecarlo, desde 238 euros, tasas incluidas.
Desde Valencia
Entre marzo y noviembre, el
MSC Splendida
tendrá salida regular desde Valencia en un crucero de ocho días, con escalas en Palermo (Italia), Civitavecchia (Roma, Italia), Génova (Italia), Marsella (Francia), Barcelona y regreso a Valencia. Otro de sus barcos, el
MSC Ópera
, ofrece minicruceros de cinco noches desde Valencia por la misma ruta desde 400 euros, tasas incluidas, a través de
Viajes El Corte Inglés
. Cinco de los barcos de
Costa Cruceros
, el
Costa Serena,
el
Costa Fortuna,
el
Costa Mágica,
el
Costa Pacífica
y el
Costa Voyager
— también harán este año escala en Valencia.
Los más familiares
El barco
Liberty of the Seas
, de
Royal Caribbean
, permanecerá por tercer año consecutivo en el puerto de Barcelona. Desde allí realizará cruceros cortos en primavera y de siete noches en verano, visitando los principales puertos del sur de Francia e Italia en travesías diseñadas para toda la familia, con los personajes de las películas de Dream Works Animations —Shrek, Fiona y los animales de
Madagascar
— a bordo. A partir de 411 euros. El amarillo y cuadrado Bob Esponja, de los dibujos animados de la cadena de televisión Nickelodeon, volverá a embarcar, junto a sus compañeros Patricio, Arenita y Calamardo, en las travesías mediterráneas del
Norwegian Epic
, de
NCL
, que a partir del 5 de mayo ofrecerá la oportunidad de descubrir destinos históricos como Roma, Pompeya y Pisa en un crucero de siete noches desde Barcelona, con tarifas desde 649 euros. Otros barcos de NCL que también navegarán por aguas europeas el próximo verano son el
Norwegian Jade
, con itinerarios por las islas griegas y el Adriático desde Venecia (Italia); el
Norwegian Spirit
, con travesías entre Barcelona y Venecia, y el
Norwegian Star
, que recorrerá las capitales bálticas desde Copenhague.
Islas griegas y Turquía
Celebrity Cruises
organiza viajes de 12 días por el Mediterráneo oriental a bordo del
Reflection
, con salida desde Roma y escalas en las islas griegas y los puertos turcos de Kusadasi y Estambul, desde 1.261 euros por persona (a través de
Logitravel.com
). La tarifa no incluye los vuelos.
Fuente: El Viajero, Diario El País, Madrid, España.