Cruise industry warns South America: itinerary costs are three times higher than in the Mediterranean
Representatives from the cruise industry have cautioned Uruguay that port operational costs in South America could have a negative impact on what has been a steady increase of business in the last few seasons and this impact could be felt as soon as next year despite the fact that the 2012/2013 season on the Atlantic is proving to be quite successful despite an uncertain start. "Itineraries' costs in South America are three times those of the Mediterranean".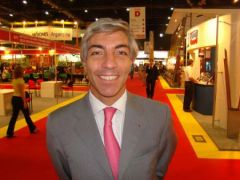 Fusaro confident about the South American market but costs
could have an impact as soon as next season
MSC Magnifica helped to turn around what seemed a very poor season
"South America has become too expensive, it's a fact we must face. Overall this year there were less vessels calling in South America and Montevideo and Punta del Este did not feel the contraction because the northeast of Brazil compensated. But next season there will be even less vessels and less calls and I'm sorry to say that some of the vessels from this year won't be calling in Uruguay next year", said Roberto Fusaro, head for South America of Mediterranean Shipping Company, MSC, one of the main operators in South America with South American clients.
Fusaro speaking with the media in Punta del Este said that MSC believes in the region in the long term and expects this moment to be overcome because "understanding it is a matter of costs and is quite simple. Operational costs in South American ports are far too expensive and I don't mean fuel which has an international price. It's not so much Uruguay, which also has its problems, but mainly Santos, Rio do Janeiro and Buenos Aires, and the problem is cruise companies analyze the whole itinerary. No company is going to come to the region because one port has normal costs or is free. On balance South American itinerary costs are three times those of the Mediterranean".
"Uruguay has some problems but it's not our main problem: we want Uruguayan officials to understand that they must not lose the advantages they have because of the two neighbouring giants which most of the time have earflaps. We are trying to convince Uruguay to join other countries in doing the region more cost effective", added Fusaro.
The MSC representative recalled the case of Chile where for several seasons cruise tourism was down significantly because of the port costs in Valparaiso, Puerto Montt, Punta Arenas. "Nowadays Chile is not so costly, they modified their rates. But now we have the case of Argentina, too costly and several vessels did not call"
Fusaro said that the cruise activity is planned two years in advance, and once a vessel changes itinerary it's very difficult to return on the short term. "In our case if one of our vessels heads for South Africa, my colleague in that region won't want to let it go. Nevertheless MSC supports South America but it is a tough battle".
More specifically on the current season Fusaro said that despite the negative forecasts mainly because of the measures implemented by Argentina, the 'dollar clamp' and to a certain extent Brazil at the beginning, "but we will be closing this season clearly ahead of expectations, both commercially (fully booked) and with very positive comments from our passengers".
"We also gambled: we moved to the South Atlantic our largest vessels so our beds' capacity actually was up 40% to 13.800. Last season between the four vessels we had just over 10.000 beds. And with more capacity we planned a shorter season and have finished growing 25%", pointed out Fusaro.
Among the improvements were precisely some of the more modern vessels, for example MSC Magnifica is new and has excellent facilities and entertainments for the whole family plus something simple as 20 hour buffet.
As to the profile of cruise passengers, "half of them are families with children, from toddlers to teenagers and we have entertainments for all ages. They make friends and parents can relax knowing their children are in an environment where they don't run risks".
"MSC Magnifica targets the Brazilian market and operates from Santos, every Sunday. It calls at Montevideo, Buenos Aires, Punta del Este and back to Brazil. Two other vessels also take off from Santos and Rio do Janeiro to the northeast and there is a fourth cruise from Buenos Aires for Argentine and Uruguayan passengers calling at Rio do Janeiro, Angra dos Reis and Buzios.
According to Uruguay's Ministry of Tourism during the 2011/2012 season 225 cruise vessels called in Montevideo (53%) and Punta del Este (47%) with an overall input of over 21 million dollars. For this year the estimate is that the number of passengers will increase by 7% (over 350.000) but overall income will be down to 20 million dollars.
Source: Merco Press (South Atlantic News Agency)