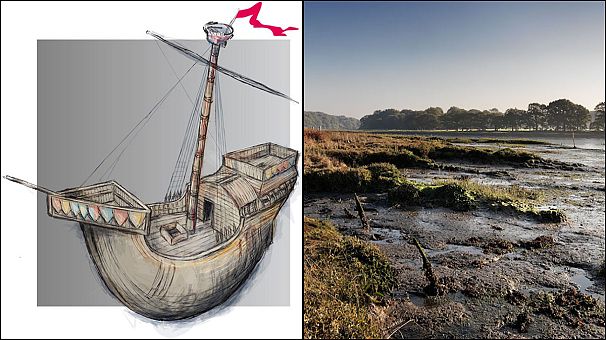 Holigost (Holy Ghost) was a key cog in Henry V's war machine, helping England to crush French naval power in the early 15th century.
Historic England, who are investigating Friel's find, said Holigost was one of four great ships commissioned by the king for fighting the French.
The heritage group believes the ship played a key part in two of the most significant battles of the Hundred Years' War, which ran from 1337 to 1453 and centred on tensions around the overseas possessions of English kings.
The ship, believed to have been found in the River Hamble near Southampton, took part in the Siege of Harfleur in 1416 and the Chef de Caux a year later.
Friel said: "I am utterly delighted that Historic England is assessing the site for protection and undertaking further study. In my opinion, further research leading to the rediscovery of the Holigost would be even more important than the identification of the Grace Dieu in the 1930s.
"The Holigost fought in two of the most significant naval battles of the Hundred Years War, battles that opened the way for the English conquest of northern France."
Duncan Wilson, chief executive of Historic England said: "The Battle of Agincourt is one of those historic events that has acquired huge national significance.
"To investigate a ship from this period close to the six hundredth anniversary is immensely exciting."
Historic England said, if verified, the Holigost would be a tangible link with the life and times of Henry V.