Liners outgrowing Queens Wharf
Terminal in middle of $18m upgrade may need $10m ratepayer top-up to
take new generation of cruise ships.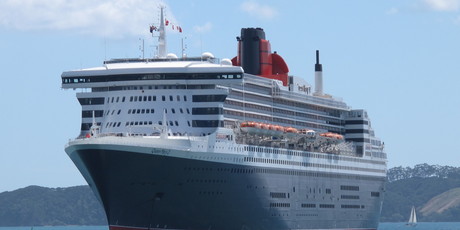 The Queen Mary 2. Photo /
Auckland's Queens Wharf is too small for the new generation of bigger cruise ships and may need a $10 million top-up from ratepayers.
Ratepayers and Ports of Auckland are already spending $18.6 million to turn Shed 10 on Queens Wharf into a cruise ship terminal to replace Princes Wharf, which has acted as a temporary terminal for many years.
Waterfront Auckland and the ports company have commissioned the engineering consultancy firm Beca to look into bigger cruise ships, which are more than 300m long and carry more than 3000 passengers.
The Queen Mary 2 is 345m long and berths at Jellicoe Wharf at industrial Ports of Auckland when it visits the city.
Queens Wharf is limited to ships up to 290m. Ships up to 320m berth at Princes Wharf.
A source told the Herald Queens Wharf was not long enough or strong enough to take larger ships.
An upgrade could cost $5 million for strengthening, $3 million to build a mooring pile out from the wharf and $2 million for improved gangways, the source said.
Waterfront Auckland chief executive John Dalzell said the cruise industry had informed the council body of bigger ships coming more frequently to Auckland, but was under financial pressure from the council so decided there was not an immediate prospect of enough big ships to invest in the infrastructure.
When work started on the $16.8 million refurbishment of Shed 10 last year, Auckland Mayor Len Brown said he had given Waterfront Auckland a "tough task in bringing costs down on Queens Wharf and they have been up to the challenge".
Asked yesterday about a multi-million-dollar top-up by ratepayers, Mr Brown said: "Waterfront Auckland is now working with Ports of Auckland and the industry on the most cost-effective short and longer-term solutions to meet the needs of a small but growing number of bigger cruise ships visiting Auckland."
Last year's cruise season was estimated to be worth $114.9 million to the Auckland economy.
Cruise New Zealand chairman Craig Harris said the widening of the Panama Canal next year and increasing demand for cruises by China was leading to bigger ships of 3500 to 4000 passengers in the South Pacific.
Already, 15 per cent of cruise ship visits to Auckland this season were too big for Queens Wharf and the figure would keep growing, he said.
"Our problem is we are trying to create certainty for the cruise lines and it is hard because these guys are scheduling two, three years ahead.
"If we don't make decisions we are in danger of the cruise lines bypassing us," Mr Harris said.
Size matters
Which wharves can take which ships:
Queens Wharf
183m Costa Romantica
266m Dawn Princess
285m Oosterdam
290m Radiance of the Seas
Princes Wharf
293m Carnival Spirit
294m Queen Victoria
311m Voyager of the Seas
314m Celebrity Solstice
Jellicoe Wharf
345m Queen Mary 2
Source: The New Zealand Herald.