Laura Dekker's quest for independence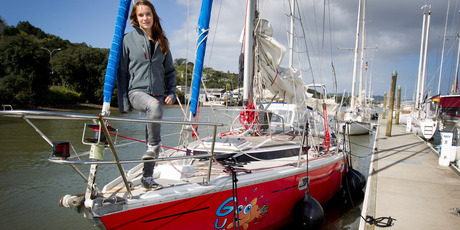 'I really like boats,' says Laura Dekker, at Whangarei's Basin Marina. 'If you want to go somewhere you just take your house with you.' Photo / Sarah Ivey
A 16-year-old who battled Dutch authorities to sail solo around the world now wants to make New Zealand her home. Geoff Cumming talks to the very independent Laura Dekker
Something about Laura Dekker, the Dutch teenager who last January became the youngest person to sail solo around the world and who washed up on our shores this week, continues to unsettle grown-ups.
Nine months after guiding her beautiful ketch, Guppy - flying a New Zealand flag - into the Caribbean island of St Maarten to complete her solo circumnavigation, she should be basking in the recognition of her mind-boggling feat, achieved at 16 years and 123 days. But it seems that only with her arrival in Whangarei - where she was born and spent her infant years aboard her globetrotting parents' yacht - are New Zealanders beginning to embrace her.
She survived more than enough mishaps and dramas on her solo voyage to silence her doubters, especially during a 48-day crossing of the Indian Ocean when monstrous winds and seas toyed with her 38ft (11.5m) yacht, turning it bow-to-stern and putting it on its side.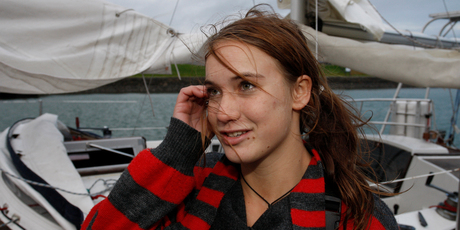 Laura Dekker plans to finish her schooling in NZ - the country of her birth - then sail at the Olympics wearing the silver fern. Photo / Malcolm Pullman
Her weblog recounts Guppy falling off 8m waves with a shattering thud; water flooding the cabin; her dry food supply infested with vermin; close encounters with ships and circling sharks.
There were times when the 16-year-old doubted her sanity as much as those who'd tried to stop her. But, she says, there was nothing unexpected: "I grew up sailing in the North Sea."
Her triumph after battling Dutch authorities who went to court to stop the then-13-year-old fulfilling her dream is the stuff of Hollywood movies. And yet her west-east journey, via the Panama Canal and with just a few stops along the way, attracted only sporadic media coverage here.
No doubt some adults feel threatened by the challenge she poses to their concept of protective duty; that there are times when parents just have to say "no", no matter how their rebellious teen might react.
Their unease may have been reinforced by her attempts at "self-harm" at the peak of her battle with child welfare agencies who made her a ward of the state and wrongly portrayed her divorced parents as rich and uncaring. (There's enough in her upbringing and subsequent behaviour to keep psychologists going for years).
Perhaps most disconcerting of all is that, having pulled off a headstrong teen's ultimate rite of passage, she wasn't content to go back to Holland and finish school knowing she had proved the authorities wrong. Instead, after a brief trip home to see family and appear on talk shows, she was back in the Caribbean, island-hopping.
She is the girl who ran away to sea and kept running. Even after her success, some Dutch newspapers portrayed her as stubborn, wilful and self-absorbed; a girl with "tremendous willpower and ambition" who "no one was going to stop". Her weblog conveys her love of solitude and affinity with nature - and her unease at being the centre of attention on terra firma.
Though she is mature beyond her years, the weblog also reveals a child-like enthusiasm for encounters with wildlife while, on board Guppy, childhood photos and a watercolour of her beloved dog remind that she is still young.
Now she has fulfilled another dream: crossing the Pacific (this time with a crew member for company) via the Galapagos Islands and Tahiti to New Zealand - about as far from Holland as it's possible to get.
Over lunch at the same Whangarei waterfront cafe - Reva's - that her parents frequented (and whose owner still remembers them), I get the impression she no longer worries what people think of her. She is understandably wary, given the media scrutiny that accompanied her battle with authorities. But her English is strong and her answers straightforward and polite.
"It was really weird dealing with the media. I had no idea how to handle it. I just wanted to sail - what are you guys all doing here? Then [the authorities] started doing things that weren't even legal, making things up."
Such as? "My relationship with my parents. Really strange things."
The truth about her parents - Dutch boatbuilder Dick Dekker, who prefers to be called Ron, and German-native Barbara "Babs" Muller, a street artist and circus clown - is unusual enough. Her father built his first yacht at 16. He was preparing to sail around the world when he met Muller, who also yearned to travel. They married, sailed the South Pacific and fell in love with New Zealand.
"They wanted to immigrate but New Zealand wouldn't let them."
The family did not return to Holland until Laura was 5; a year later her parents divorced. Her mother moved north with younger sister Kim; she stayed in Den Osse with her father.
They tried living ashore for a year but didn't like it. Home since then has been on her father's boats. "I really like boats. If you want to go somewhere you just take your house with you.
"It's something a lot of people think about and never do because they're too scared. I can kind of understand it because I would never think of living in a house. A house is kind of scary."
Friendly Whangarei folk keep offering her accommodation, suggesting she must be sick of her cabin. "I'm saying 'nah, I'm good'."
She had little contact with her mother after the divorce. She took up sailing with a vengeance, racing dinghies all over Holland with Spot, her dog, for ballast. By age 9, she was barred from the youth programme because she kept winning everything.
She graduated to a small keeler, went ocean-racing and won. "One summer vacation I went everywhere in Holland then the North Sea and to England, everything solo."
The 13-year-old omitted to tell her dad where she was going. When she reached England, authorities arrested her and demanded her father accompany her on the return voyage.
When she declared her intention to sail the globe, her world began to cave in. "They thought I was completely wrong and my parents were mad and I was going to die."
A drawn-out court battle followed. "At first they said school was the problem but I had organised home schooling. Then they wanted to place me in childcare and said my parents were really bad."
At the height of it, she slashed her wrists. "My Dad pulled me through. He was kind of the only person who really believed in me.
"I just wanted to do it for myself, see if I could do what I always wanted to do. Then all these people came in, which was extremely weird. When other people were turning against me it got me inspired to really leave the country."
Her father did not agree with her wishes but told her - hoping it would put her off - that if she found sponsors and organised everything herself, he would support her. She did. Still, it was only when a sponsor who'd offered her a boat withdrew during the legal wrangling that her father stepped in.
"Dad found [Guppy] and I fell in love with her. She was completely wrecked, had been seven years ashore and had a metre of water in her. He rebuilt [the boat] and I helped - new engine, rig, rudder, sails. It was a lot of work but it means I really know the boat well.
"He just taught me everything he knew about making the boat safe. He would sit down with me every night and tell me it would not be fun. Mum was worried but didn't say no."
Media reports suggest otherwise - that her mother sided with the authorities but relented after the wrist-slashing episode. After a judge ruled the decision should rest with the parents, Dekker says the authorities gave up.
The fight brought renewed contact with her mother and she says their relationship is slowly rebuilding.
She hesitates over whether her achievement could or should inspire others. "I don't know. I proved I could do it, that doesn't prove others could do it. In my eyes the parents know their child. My parents knew I could do it but they also know my sister could never do it and she's 14. She's not a sailor."
She is enjoying her freedom too much to bask in her fame. Her companion, Bruno Ottens, is a 19-year-old Dutch-Brazilian she met on the Caribbean island of Bonaire, where he worked behind the bar at a resort.
The pair fly to New York in a week to work on a documentary she is making with a film producer friend about her voyage (Ottens is helping with the soundtrack). A book is also in the pipeline. When they return, they will look for work.
It's easy to surmise that Dekker's New Zealand sojourn is as much about sticking it to the Dutch authorities as any childhood attachment, but the truth is more subtle. "When I got home it was cold. And Holland just didn't feel like home anymore. I already had an idea in my head to continue to New Zealand sometime."
The idea took root in Cape Town, where her stop coincided with the arrival of the Volvo race fleet and Team New Zealand took her under their wing. That was when she swapped her Dutch flag for New Zealand's.
"And both my parents are planning to leave Holland [her father is building a 20m cutter he plans to sail the Pacific] so there didn't seem to be a good reason to stay there.
"They are both [pleased] that I am happy now, even though I'm far away. After everything we've been through - and they've seen me really unhappy - they're just glad I'm finally here and happy."
The rollercoaster is in full swing now, but happily we did not do any loop-the-loops so far and I am feeling pretty good actually. Although I can't figure out what could be funny about being brutally bounced around, all salty-soaked and heading in the wrong direction at 3.5 knots, but the sun is shining! Maybe I am slowly going nuts here but it just makes me laugh now each time another wave comes splashing all over ... At times "Gup" goes over the top of a wave, drops several metres down on the other side to hit the bottom with a sickening thud and then bravely takes on the next wave ... But so far, so good, and apart from the salty toilet water that flooded my wardrobe, a snapped cable and a broken pulley on the wind vane a short while later, everything is going well.
At sea my typical day's highlights were having dinner, sleeping, sliding over a very high wave, watching a strange cloud, or spotting a ship - small things that made my day and kept me very happy, day after day. That has all changed now. Eating and sleeping are but minor events. ... Here we keep busy running from pillar to post and back, and my head whirls with all the questions I am asked. Luckily, I can run back to Guppy, my little hideaway that keeps me from going nuts - or am I really?
Source: The New Zealand Herald, Auckland, New Zealand.