Cruising: Happily ever after on the high seas
Simon Veness finds an unexpected touch of nautical nostalgia on a Disney Cruise Line voyage around the western Caribbean.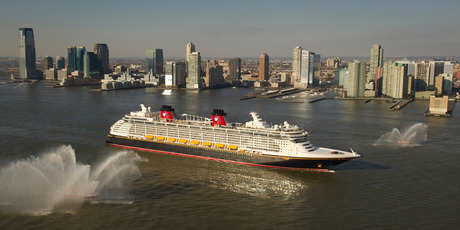 The Disney Fantasy cruise liner sails past the Manhattan skyline en route to its new home port at Port Canaveral in Florida. Photo / Creative Commons image by Flickr user insidethemagic
It took the House of Mouse to remind me, but big can still be beautiful, at least when it comes to cruise ships.
In an era when most cruise lines conform to the "bigger is better" mantra, churning out vessels with all the aesthetic appeal of a 1960s block of flats, it needed someone to swim against the tide and introduce some elegance.
The big surprise was that it was
Disney Cruise Line
that bucked the trend, forging an alternative design ethos more in tune with the 1930s than the 21st century.
Take the brand-new
Disney Fantasy
, for example, as I did on a special preview cruise prior to its maiden voyage to the western Caribbean earlier this year.
At 130,000 tonnes and carrying 4000 passengers - virtually twice the size of Britain's last true liner, the QE2, launched in 1967 - she is anything but modestly proportioned, yet she remains distinctly shipshape, both inside and out.
And therein lies the secret to this latter-day non-conformist.
While the Fantasy is assuredly a modern vessel, her roots remain planted in the period when windows were round, Art Deco and Art Nouveau were all the rage, and Cassandre's posters summed up travel in all its finery.
Of course, this wouldn't be Disney without a host of technological marvels and a generous smattering of Mickey-ness. The latest and grandest of Disney's four-ship fleet positively overflows with hi-tech wizardry, courtesy of the company's "Imagineers": the designer/dreamers created in the image of Walt himself.
It is never allowed to dominate the holiday conversation, though. For every piece of Enchanted Art - interactive animations that can play games with passengers - there is an ocean-going historical motif; for every Disney-infused show, there is an elegant traditional counterpoint, a subtle window on to yesteryear.
I was prepared for the former, and surprised by the latter. The company's reputation as the family experience par excellence is well deserved, and the Fantasy is no exception.
Children are swept up in a barrage of facilities, amenities, programmes and activities that start at enchanting and go all the way to cutting-edge dazzling, including a video game "floor" developed exclusively for the ship.
In fact, I'd go as far as insisting the Oceaneer Club and Oceaneer Lab, where the 3-12 age group hangs out, are actually too good for kids. But throughout there can be no doubting that delicious dual-aspect nature of this brand new behemoth of the seas.
Take a seat at the Bon Voyage bar and you are ready to sup with Clark Gable and Greta Garbo; order a cappuccino in the adults-only Cove Cafe and you're in the realm of Bertolucci; dine in the exclusive confines of Restaurant Remy and it's pure Edith Piaf territory.
Subtle signage, period light fittings, etched glasswork, a proper promenade deck - replete with wooden steamer chairs - and classically curved railings fill the place with an abundance of Golden Age pointers.
For me, brought up on cruise experiences in the 1960s and 70s when my family sailed between Britain and South Africa on ships that still had portholes, raked bows and sheered decks, it was a taste of pure nautical nostalgia.
Of course, there still has to be modern-day glamour to go with the period style, and that is delivered by Disney's other signature element, the adults-only night-time entertainment district. This four-part adventure of music, Irish pub, lounge bar and nightclub offers something for all tastes.
While the contemporary dance vibe of the Tube wasn't my cup of tea, the eye-catching Skyline Bar, with its constantly changing "window" backdrop of cityscapes (achieved with full panoramic photos enhanced by moving digital elements) and martini-based menu certainly was.
The two areas of unavoidable full-on Disney immersion are in the main dining rooms and the Walt Disney Theater, home to the big-scale show productions each evening.
The former consists of a trio of restaurants unashamedly animated in character but boasting a sophistication of cuisine you might not expect from the Big Cheese.
The latter simply goes full throttle for what the company has done best since the days of Snow White - great musical entertainment that reminds you good storytelling didn't start with J K Rowling.
There are two dining alternatives to the main trio of the Royal Court: Enchanted Garden and dazzling Animator's Palate - the latter of which is a genuine animated experience. However, they do come with an additional price tag. The authentic Italian of Palo costs US$20 per person, while the Michelin-star quality of Remy is a whopping US$75 for its multi-course extravaganza.
In fact, price may be the one potential downfall of this heady mix of classic and modern cruise-going extravagance.
Treatments at the truly gorgeous Senses Spa started at US$115 for a basic facial and went all the way to US$449 for a couples' two-hour "romantic hideaway" package, which was enough to ruin any romantic inklings I might have had.
Meanwhile, a CD of all my cruise photos, as recorded by the battery of onboard photographers, weighed in at the princely sum of US$399.
Take a flight of Fantasy, though, and you will be transported for seven days around the eastern or western Caribbean from Disney's home base of Port Canaveral (an hour west of Walt Disney World in Orlando), with the bonus of a call at the line's private island of Castaway Cay.
Disney may not quite be able to guarantee that you'll live happily ever after, but you should certainly enjoy yourself in the meantime.
Source: The New Zealand Herald, Auckland, New Zealand.